13/09/2019
New Elite Wheat Multigrain Rusk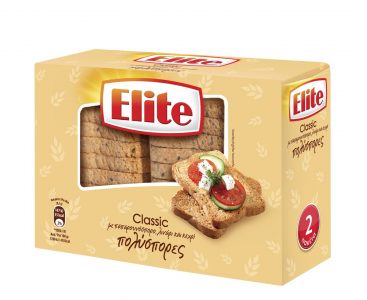 With millet, linseed and poppy seed
Elite of quality and taste has entered Greek family lives almost half a century ago, when it produced the 1st packaged rusk.  Ever since, it has been the absolute leader in rusk category by following the same "recipe" of success: to constantly develop new products that meet consumers' nutritional needs and tastes preferences.  Inspired by nature's power and purity, Elite presents the Elite Wheat Multigrain rusk, a new innovative product that enriches the already existing successful range of consumer product choices.
New Elite Wheat Multigrain rusk, inspired by the Greek Mediterranean Diet, is made of ingredients based on a balanced nutritional recipe and contains seeds that provide a distinctive taste and aroma:
millet
linseed
poppy seed
Flaky, crispy and well toasted, Elite rusks are a source of fiber and can become the basis for innumerous tasteful ideas and propositions. They pair perfectly with honey or cheese for a delicious breakfast, with a fresh salad for a light and nutritious meal, or even can stand alone as a healthy snack; in other words, Elite rusks offer tasteful choices for any time of day.
Elite, the value of simplicity.