03/10/2019
Elbisco exclusive sponsor of «Nutrition Games», educational theatrical play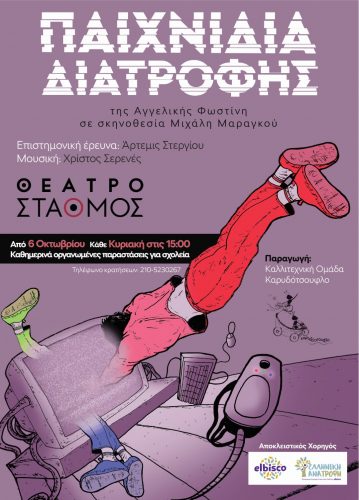 In the context of "Elliniki Anatrofi" (Greek Nurture) Elbisco Corporate Social Responsibility programme
Elbisco as part of "Elliniki Anatrofi" (Greek Nurture), its Corporate Social Responsibility programme is the exclusive sponsor of the theatrical play "Nutrition Games", which begins its performances on Sunday, October 6 at the "Stathmos" Theater.
The play, targetting children and adolescents, focuses on video game addiction and its relationship to proper nutrition. In particular, it narrates in a very original way the story of three teenagers who are trapped into the video game that they are playing. In order to be able to return home, they must end the game by tackling different characters, solving puzzles, completing tests, but also making important discoveries, such as what is the right energy required for the body, where does it come from and what are the right food habits one should follow. The script of the play is by Angeliki Fostini, directed by Michalis Maragou, music and lyrics by Christos Serene, while scientific research was done by nutritionist Artemis Stergiou. The theatrical play, which runs until January 26, 2020, is available daily for organized school visits, while for the public the play is available every Sunday at 15:00
"Nutrition Games" sponsorship falls under Elbisco's integrated "Elliniki Anatrofi", Corporate Social Responsibility programme that aims to promote and foster respect for man and food.  The related programme's goals and priorities are fully in line with the company's vision for extrovert growth, guided by the Greek universal values, "Ethos, Metron, Paedia".
Within this framework, Elbisco implements and supports targeted actions that aim, via mainly education, to inspire the whole of society with the sense of respect, which is inextricably linked to Greek nutritional tradition.
For Elbisco Greek tradition and especially the cultural values ​​associated with nutrition, such as respect, formed the basis for the creation of "Elliniki Anatrofi" CSR program. By focusing primarily on education and the younger generation of our country, the company wishes to contribute to a society that recognizes respect for food, for themselves and for those around them.
Elbisco "Elliniki Anatrofi" CSR programme is based on the following key pillars:
cooperation with the Foundation of the Hellenic World for planning and implementing an experiential children's educational programme with the aim of fostering respect for food
long-term support to the "Ark of the World" NGO with emphasis on enhancing educational programme and supportive teaching courses of the Organization across all school grades
continuation and enhancement of social solidarity actions implemented by Elbisco, both in the context of solid partnerships and with ad hoc initiatives to respond to humanitarian or other crises.