11/11/2019
ALLATINI In Passion: New Kings Soft Cookie With Coconut and White Chocolate Chunks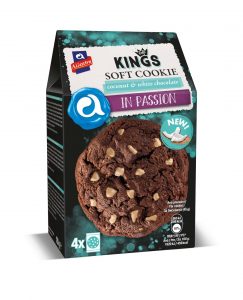 For decades, Allatini brand has been offering to every Greek household top quality products made with love and care.  Based on these principles, the new Allatini Kings Soft Cookie with Coconut and White Chocolate Chunks are here to change completely cookies as we know them today, by offering an impeccable combination of soft texture with irresistible coconut flavor and rich white chocolate chunks.
Allatini Kings Soft Cookie are available in three additional delicious flavors:
Chocolate chunks
Dark chocolate chunks
Triple chocolate chunks
Allatini In Passion product range is based on unique flavor combinations made out of fine ingredients offered in individual portions that do not exceed 250 calories, thus offering countless enjoyment with measured calories nevertheless.
Allatini consciously chooses to embrace Goodness, one of its perennial values, which is at the core of contemporary balanced diet. Goodness stands for quality and high nutritional value. It stands for products that combine enjoyment with balance and metron. It reflects recipes full of flavor and aromas. It stands for virtue, righteousness, responsibility and above all respect to human being.
Allatini. A world full of Goodness